✻
Making an Impression with Delicious Antipasto and Bar Bites
Truffle Fries, Cheese Platters, Soups – Have It All at SALVO by Pasta Fresca Singapore
The antipasto is the traditional first course of any formal Italian meal. This usually means an assortment of cured meats, olives, pepperoncini, mushrooms, anchovies, artichoke hearts, different types of cheeses, pickled meats, and vegetables complemented with oil or vinegar.
At SALVO by Pasta Fresca, we love to make a great first impression. Be it on you or for your guests, the first course should excite and delight, paving the way for more deliciousness later in the meal. This is why we have come up with our menu of antipasto and bar bites, designed to delight with every bite.
SAVOR THE DECADENT TASTE OF LUXURY WITH SALVO'S TRUFFLE FRIES PARMIGIANO
Experience the unrivalled delight of the best truffle fries in Singapore at SALVO by Pasta Fresca. As a hot favourite amongst our customers, our Truffle Fries Parmigiano is a culinary masterpiece – featuring deep-fried shoestring potato fries masterfully tossed in aromatic truffle oil and generously topped with freshly grated parmesan cheese. This decadent bar bite is not just a side dish, but a gastronomic journey that will transport you straight to the heart of Italy. As the perfect accompaniment to your meal or a standalone treat, our truffle fries perfectly embody the sophistication and tantalizing flavors that are synonymous with our brand. Don't just read about it, come experience it for yourself at SALVO – your go-to destination for an unforgettable Italian dining experience in Singapore.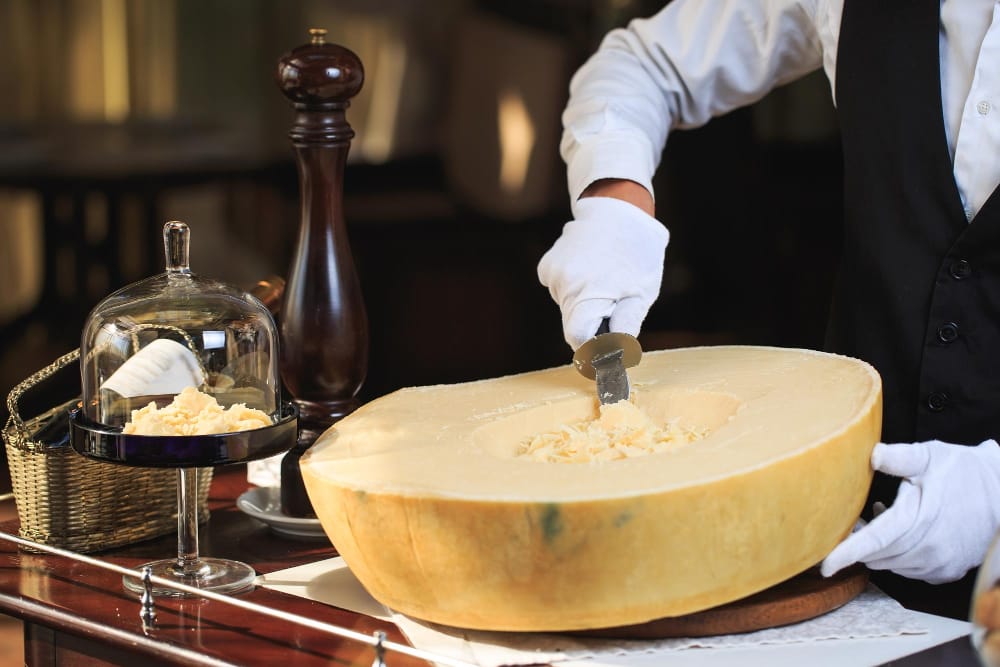 SALVO'S GOURMET CHEESE PLATTER, THE AUTHENTIC EXPERIENCE
Embark on a culinary journey to Italy with SALVO's gourmet Cheese Platter. Renowned as a top destination for cheese lovers in Singapore, SALVO delivers a selection of Italy-imported gourmet cheeses, artfully arranged in a platter for your indulgence. Each cheese on the platter tells a story of Italy's rich culinary heritage and the country's passion for fine food. The assortment, priced affordably, offers a taste of Italy that goes beyond just flavour. This Cheese Platter is more than a dish; it's an experience, a taste of the Italian lifestyle right here in Singapore. Relish in the delicate textures and rich flavours as you sample from our selection. Ideal for sharing with friends or enjoying solo, our Cheese Platter is a must-try for any cheese enthusiast. Searching 'cheese platter Singapore' will inevitably lead you to SALVO, your favorite Italian dining destination.
Perfect on Their Own, Better in Bunches
You can always start off with some Focaccia Bread or enjoy a warm Soup of the Day made fresh daily. For those looking for a more savoury treat, our Bruschetta Tomato and Avocado or the Buffalo Mozzarella Caprese can easily open up your palate. Looking for something more substantial and delectable? The best truffle fries in Singapore awaits with SALVO by Pasta Fresca's Truffle Fries Parmigiano. There is also the option of an Italian classic with our Arancini.
For our friends who prefer the comforts of a well-tossed salad, do not worry. The Roasted Veggy Salad is a hot item amongst our customers, while our Mediterranean Salad and Gourmet Marinated Olives are always crowd pleasers.
Get A Taste Today
Whether you are after the unforgettable taste of the best truffle fries or the most impressive cheese platter in Singapore, SALVO by Pasta Fresca is where you need to be. Stop thinking about your next meal, we are already waiting for you here at your favourite Italian dining destination.