✻
The Best Fresh Pasta You Can Find in Singapore
HANDMADE PASTA AT SALVO BY PASTA FRESCA
When it comes to Italian food, pasta is a key part of the diet. With the many different ways of preparing the staple dish, its versatility and tastiness is second to none. Whether you prefer a tomato, cream, or olive oil base, there is a perfect handmade pasta dish for you. Thankfully, here at SALVO by Pasta Fresca Singapore, we are ready to satisfy your tastebuds no matter how you prefer your fresh pasta.

Fresh Pasta Selection
Create your own pasta dish with our wide selection of homemade fresh pasta and sauces, cooked to perfection by our team of culinary experts. Enjoy the familiar sight of long pasta with capellini, spaghetti, or fettuccine without egg. For those of you who like short pasta, we also offer rigatoni, penne, and tri-colour fusilli.
For diners looking at something heavier, our selection of stuffed pasta is awaiting. You can have the ravioli stuffed with spinach and ricotta cheese, the ravioli stuffed with beef, or the tortellini stuffed with mushroom.
Each and every one of our fresh homemade pastas are uniquely delicious, and can only be found at the SALVO by Pasta Fresca restaurant here in Singapore.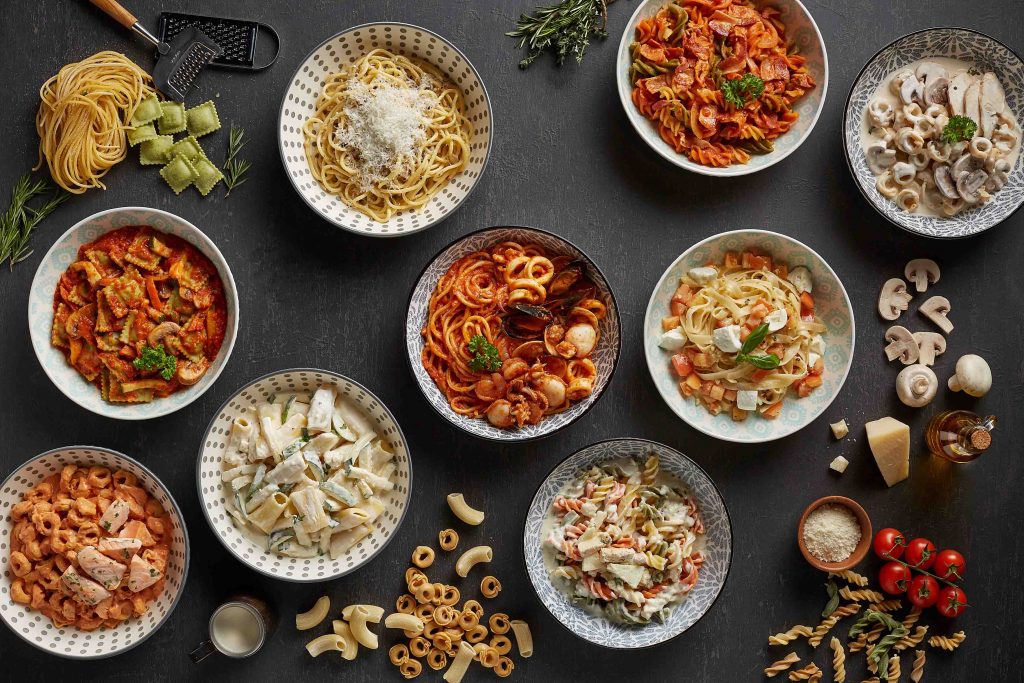 HANDMADE PASTA SAUCE SELECTION
Fresh pasta without sauce just does not feel right, which is why we have provided an extensive range of sauces for every one of your cravings. Our offerings of tomato-based, cream-based, and olive-oil-based sauces will bring you on a spectacular journey of regional tastes and Italian delights. The Salmon Aurora and Truffle Porcini are two of the best pasta choices our chefs at SALVO by Pasta Fresca Singapore highly recommends.
Be it fresh pasta made at the restaurant or delivered to you via delivery, you can be sure every bit of SALVO by Pasta Fresca Singapore's handmade pasta choices will be the best decision of your day, every time.
WHY FRESH PASTA

Experience the best pasta Singapore has to offer with our delectable handmade pasta. As Singapore's finest, our fresh pasta is crafted from a rich blend of flour and eggs, standing out as a culinary delight in the city's vibrant food scene. The tender, delicate texture and rich flavor are a testament to our commitment to quality, setting us apart as the provider of the best pasta in Singapore.
Each bite of our handmade pasta transports your palate to Italy, offering an unrivaled, luxurious mouthfeel that marries perfectly with a variety of sauces. Among our offerings, the truffle pasta is a standout in Singapore's culinary scene. The subtly earthy, aromatic truffle impeccably enhances the richness of our fresh pasta, making our truffle pasta a must-try for all gourmet food enthusiasts.
For those who have a penchant for stuffed pasta, our ravioli is a treat. Here in Singapore, our ravioli is lovingly encased in our fresh pasta, and the fillings deliver an explosive burst of flavor, allowing you to truly appreciate the superior quality of our fresh pasta.
When it comes to pasta, dry offerings made from durum wheat semolina simply can't compete with the depth of flavor and exquisite texture of our handmade pasta. Thanks to the eggs in our recipe, our fresh pasta also boasts a slightly higher protein content, providing a nutritional edge. So why settle for the ordinary when you can enjoy the extraordinary? Choose our fresh pasta and experience the best fresh pasta Singapore has to offer.