Download our Vegetarian-Friendly Guide here or Scroll Down for The Guide 
Taking Care of Your Vegetarian Needs with No Compromise
When it comes to dietary restrictions and preferences, every one of our diners is different. While some of our customers prefer the hearty Italian cuisine that we are well known for, there are also many diners who are looking for a vegetarian Italian restaurant to call their new favourite.
We have vegetarian menu items that can fulfil your dietary requirements and still pack a punch in the flavour department. Vegetables, nuts, and grains and more can be found in many of our vegetarian pasta dishes, so you will always have a choice when it comes to your meal with us.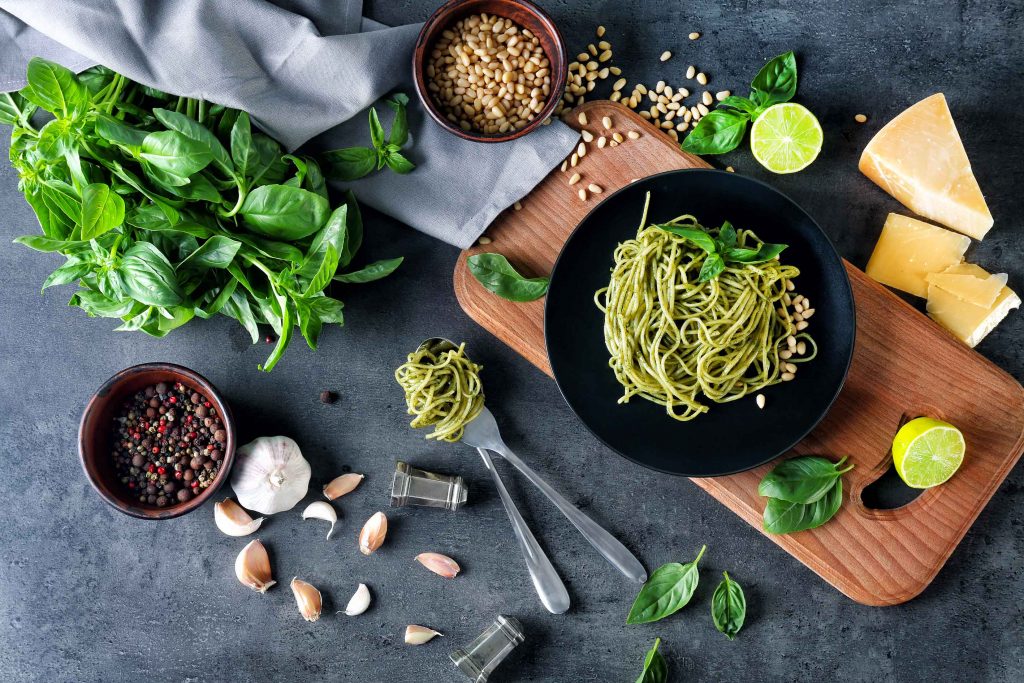 A Full Menu of Vegetarian Choices
At SALVO by Pasta Fresca, you can have the full Italian restaurant dining experience while ensuring that your specific type diet is taken care of. Our Vegetarian-Friendly Guide lists dishes offered in the main menu without meat or seafood. All other ingredients used are listed for your easy reference. We use only healthier oils that are vegetable-based and a range of olive oils.
Check out our soup of the day that is made fresh daily using only vegetable-based stock, or start things off with our focaccia bread or the crowd-pleasing Bruschetta Tomato & Avocado. Our menu also offers fresh salad options, making sure you get your daily dose of healthy greens.
The signature fresh pasta of SALVO by Pasta Fresca can also be enjoyed by our vegetarian customers, with our stuffed, short, and long pastas complemented by the many different bases to create unforgettable gastronomical memories. The Creamy Lemon Zucchini and Truffle Porcini are highly recommended vegetarian pastas by both guests as well as our chefs in the SALVO by Pasta Fresca kitchen.
Of course, you can always partake in the desserts and get yourself a drink to complete your meal. At SALVO by Pasta Fresca, you will always have plenty of vegetarian choices.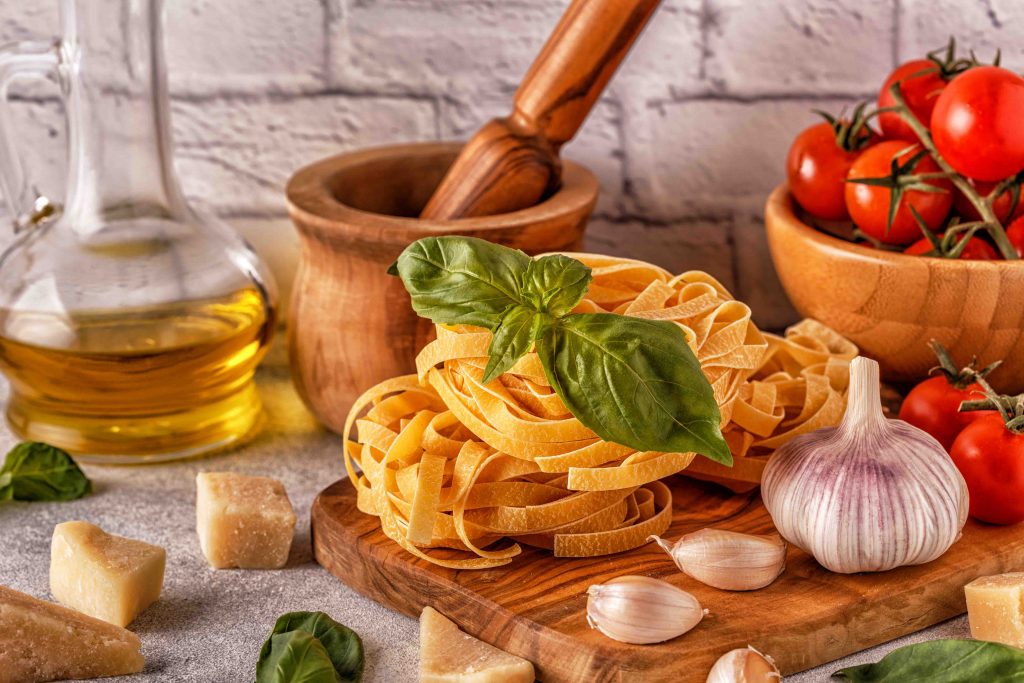 VEGETARIAN-FRIENDLY GUIDE
This guide lists the dishes we offer on our main menu but without meat and seafood. To cater to a spectrum of diet preferences as well as those with diet restrictions, we indicate ingredients used. Kindly read carefully before making your selection.
If you consume dairy products, eggs

&

root vegetables, the choices here are mostly for you.
If you consume dairy products but do not consume eggs, you may wish to know that our fettucine is made without eggs. Pair it with any sauce listed here.
If you do not consume dairy products

&

eggs, you can pair your pasta with sauces without dairy

&

cheese. Note that our breads

&

pizza dough do not contain dairy.
If you do not consume root vegetables, please note that all our dishes do not contain chives, shallots, scallion

&

leek. All other vegetables used are listed or marked accordingly.
Dishes marked with these letters contain the respective ingredients:
Onion (0) Garlic (G) Dairy (D) Egg (E) Cheese (C)
We do not use animal fats and oils and all stocks used are vegetable-based.

Note that due to change in supplier, all our cheese

(C)

are produced with animal rennet. Only mascarpone cheese is not produced with rennet.
All dishes using tomato sauce are pre-produced and onion

&

garlic cannot be excluded.

Ingredients that are not pre-produced can be excluded when requested.
ANTIPASTO & BAR BITES
Focaccia Bread
Flat oven-baked Italian bread
Buffalo Mozzarella Caprese
Fresh buffalo mozzarella cheese and tomato slices, drizzled with olive oil and basil (C)
Mediterranean Salad
Fresh romaine lettuce and rucola tossed with feta cheese, avocado, cucumber, leccino olives, cherry tomatoes and onion in balsamic dressing (O)
Roasted Veggy Salad
Fresh romaine lettuce and rucola tossed with roasted mixed vegetables, roasted walnuts, freshly grated parmesan cheese in balsamic dressing (C)
Gourmet Marinated Olives
Black and green olives marinated with garlic, chilli, parsley and extra virgin olive oil (G)
Cheese Platter
Platter of assorted Italy-imported gourmet cheeses and preserved mixed vegetables (sundried tomato, artichoke, marinated olives) (G) (C)
Burrata & Eggplant Caponata
Exquisite burrata cheese on a bed of eggplant caponata with tomato sauce, pine nuts and basil (O) (G) (C)
Arancini
Italian rice infused with parmesan cheese, stuffed with heavenly mozzarella and deep fried to golden perfection, served with spicy Italian sauce (O) (G) (C)
Truffle Fries Parmigiano
Deep fried shoestring potato fries tossed with truffle oil and topped with freshly grated parmesan cheese (C)
Bruschetta Tomato & Avocado
Fresh tomato cubes seasoned with olive oil and basil on velvety avocado cream, topped on slices of oven toasted bread (C)
PASTA Type


*Our fresh pasta is made with flour, olive oil and egg. Only fettucine is made without egg.
Stuffed
Ravioli stuffed with spinach and ricotta cheese
Ravioli stuffed with beef
Tortellini stuffed with mushroom
Short
Rigatoni, Penne, Tri-colour Fusilli (Plain, Tomato, Spinach)
Long
Capellini, Spaghetti, Fettuccine (No Egg)
PASTA – SAUCE SELECTION
TOMATO BASE
Pomodoro & Basilico
Traditional Italian sauce made from a secret blend of San Marzano tomatoes, garlic, vegetables and basil (O) (G) (C)
Arrabbiata
Spicy and tangy Italian tomato sauce with chilli and garlic (O) (G)
Vegetariana
Assorted seasonal vegetables (zucchini, eggplant, carrot, onion, mushroom, capsicum) tossed in zesty tomato sauce (O) (G) (C)
CREAM BASE
Four Cheese
An exquisite meld of four cheese sauce (C)
Creamy Lemon Zucchini
Zucchini strips and onions sauteed with cream and lemon zest (O) (C) (D)
Truffle Porcini
A velvety cream sauce of porcini mushrooms, button mushrooms, truffle oil and truffle caviar (C) (D)
Cacio E Pepe
Simple traditional dish of melted pecorino & parmesan cheese with crushed black pepper (C) (D)
*Can be paired with long pasta only*
OLIVE OIL BASE
Caprese
A tangy and refreshing aglio olio of garlic, fresh buffalo mozzarella chunks and diced tomatoes (G)(C)

PASTA OVEN-BAKED
Cannelloni Spinach Ricotta
Rolled pasta sheets with fillings of ricotta cheese and spinach, oven baked with cream and tomato sauce (C) (D)
PIZZA
Margherita
Fresh, simple, classic pizza with zesty tomato sauce and mozzarella cheese (O) (G) (C)
Burrata
Topped with fresh rucola, cherry tomatoes and whole burrata cheese (O) (G) (C)
Vegetariana
Oven-baked with assorted roasted vegetables (zucchini, eggplant, carrot, onion, mushroom, capsicum, onions) and mozzarella cheese (O) (G) (C)
Four Cheese
A luscious meld of four cheese topping (O) (G) (C)
DESSERT
Tiramisu
Signature traditional Italian mascarpone cheese and coffee cake (C) (D)
Lava Cake
Luscious Italian lava cake served with a scoop of vanilla gelato (D)
Gelato Medley
Vanilla, Pistachio, Chocolate (D)
Panna Cotta
Classic Italian cream pudding (D)
Choice of topping: Strawberry Coulis / Chocolate Sauce / Salted Caramel
Pizza NUTELLA
Hot pizza base smeared with NUTELLA and topped with roasted walnuts with a drizzle of sugar powder (D)
While we make every effort to ensure the accuracy of our vegetarian pasta singapore menu, we cannot guarantee that every item is 100% free of non-vegetarian ingredients due to potential cross-contamination during preparation and cooking. In the event that there are unintentional errors or omissions, we apologize for them. However, we are not liable for any mistakes or oversights that may occur. Thank you for your understanding.